ABOUT DISTRICT COURT
Tripura, one of the full-fledged states of North-East India, had a long history as a princely state, stretching back into antiquity. According to versions presented in different editions of 'Rajmala', altogether 184 kings of the Manikya dynasty had ruled the state. Scholars on Tripura's history, however attribute all the pre-fifteenth century kings to the realm of mythology though continued sway of the Manikya dynasty has been attested since the year of 1432.
After India became independent, Tripura acceded to the Indian Union on 15th October, 1949 as a "C" category state and became a Union Territory in November, 1956. Tripura attained full statehood on January 21, 1972. Till then, Tripura was a single District state.
Since 1978, several landmark initiatives have been taken by the State Government to strengthen democratic values in the state in General and penetrated the essence of democracy at grass-root level, in particular. On introduction of 3-tier Panchayti Raj local- self-governance model, common people of the state had been empowered to elect their own representatives at village level through democratic elections.
Tripura, which had once a single District only is now divided into eight districts, twenty-three subdivisions and fifty eight blocks. Besides, a special feature of[...]
Read More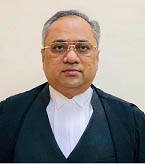 Hon'ble The Chief Justice (Acting), High Court of Tripura
Portfolio Judge, Sepahijala Judicial District